Cambridge – Beautiful Britain series by Gordon Home
My rating: 4 of 5 stars
Free download available at Project Gutenberg..
Opening lines:
In writing of Cambridge, comparison with the great sister university seems almost inevitable, and, since it is so usual to find that Oxford is regarded as pre-eminent on every count, we are tempted to make certain claims for the slightly less ancient university.
Page 6: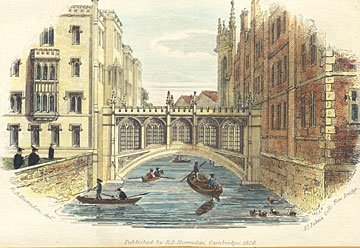 From this spot beautiful views are obtained up and down the river.
Page 8:
KING'S COLLEGE.—Henry VI. was only twenty when, in 1441, he founded King's College. In that year the pious young Sovereign himself laid the foundation stone, and five years later it is believed that he performed the same ceremony in relation to the chapel, which grew to perfection so slowly that it was not until 1515 that the structure had assumed its present stately form.

This Chapel and that of Henry VII at Westminster and St. George's at Windsor, are the finest examples of the gorgeous fan tracery belonging to the last phase of English gothic architecture.
Page 10:
TRINITY COLLEGE.—Oxford does not possess so large a foundation as Trinity College, and the spaciousness of the great court impresses the stranger as something altogether exceptional in collegiate buildings, but, like the British Constitution, this largest of the colleges only assumed its present appearance after many changes, including the disruptive one brought about by Henry VIII.
Page 11:


Trinity was expanded by Henry III from the "great college" built by Edward III. The gateway dates from about 1535.
Page 12: THE LESSER COLLEGES

Peterhouse

Clare College

Pembroke College

THE GATE OF HONOUR CAIUS COLLEGE

Trinity Hall

St. Benedict's Church

Queen's College

St. Catherine's College

Jesus College

Emmanuel College

THE CIRCULAR NORMAN CHURCH OF THE HOLY SEPULCHRE
Related articles