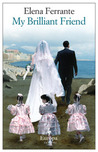 My Brilliant Friend by Elena Ferrante
My rating: 4.5 of 5 stars
This is the first book of the L'amica geniale tetralogy .
The plot is about of two friends, Elena Greco and Lila Cerullo living in Naples in the 1950s. Through their lives, the author describes their neighborhood as well as the changes in the city and the country, specially with the consequences of World War II.
The book starts with Elena receiving a telephone call by Lila's son since his mother simply disappeared, taking all her personal belongings. This fact makes Elena to write their friendship all along these years.
Location 973:
On December 31st of 1958 Lila had her first episode of dissolving margins. The term isn't mine, she always used it.
Location 1415:
I began, by my own choice, to help my mother clean the house, to cook, to keep up with the mess that my brothers made, to take care of Elisa, my little sister. In my spare time I didn't go out, I sat and read novels I got from the library: Grazia Deledda, Pirandello, Chekhov, Gogol, Tolstoy, Dostoyevsky. Sometimes I felt a strong need to go and see Lila at the shop and talk to her about the characters I liked best, sentences I had learned by heart, but then I let it go: she would say something mean; she would start talking about the plans she was making with Rino, shoes, shoe factory, money, and I would slowly feel that the novels I read where pointless and that my life was bleak, along with the future, and what I would become: a fat pimply salesclerk in the stationery store across from the parish church, an old maid employee of the local government, sooner or later cross-eyed and lame.
The story cover the period of the 1950s until the beginning of the 1960s, describing the intertwined story of six Neapolitan families.
Location 2128:
So at 11:30 P.M. on December 31st, after the New Year's Eve dinner, various families – the family of the former carpenter, the family of the porter, that of the shoemaker, that of the fruit and vegetable seller, the family of Medina, who that night had made an effort with her appearance – climbed up to the fifth floor, to the old, hated home of Don Achille, to celebrate the new year together.
Location 4361:
The plebs were us. The plebs were that fight for food and wine, that quarrel over who should be served first and better, that dirty floor on which the waiters clattered back and forth, those increasingly vulgar toasts.
With a splendid style of writing, it's impossible not to fall in love with this very touching and moving family saga.
Its sequel is The Story of a New Name.
Update